There are some claims that market solutions will automatically fix any problem, but those claims don't always work out.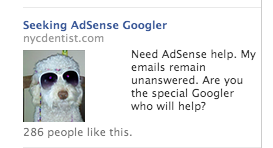 That's an ad someone was running for a few months on Facebook in order to try to find a human at Google to help them because every conventional technique they had at their disposal failed. Google has perhaps the most advanced ML in the world, they're as market driven as any other public company, and they've mostly tried to automate away service jobs like first-level support because support doesn't scale. As a result, the most reliable methods of getting support at Google are
Be famous enough that a blog post or tweet will get enough attention to garner a response.
Work at Google or know someone who works at Google and is willing to not only file an internal bug, but to drive it to make sure it gets handled.
If you don't have direct access to one of these methods, running an ad is actually a pretty reasonable solution. (1) and (2) don't always work, but they're more effective than not being famous and hoping a blog post will hit HN, or being a paying customer. The point here isn't to rag on Google, it's just that automated customer service solutions aren't infallible, even when you've got an AI that can beat the strongest go player in the world and multiple buildings full of people applying that same technology to practical problems.
While replacing humans with computers doesn't always create a great experience, good computer based systems for things like scheduling and referrals can already be much better than the average human at a bureaucratic institution. With the right setup, a computer-based system can be better at escalating thorny problems to someone who's capable of solving them than a human-based system. And computers will only get better at this. There will be bugs. And there will be bad systems. But there are already bugs in human systems. And there are already bad human systems.
I'm not sure if, in my lifetime, technology will advance to the point where computers can be as good as helpful humans in a well designed system. But we're already at the point where computers can be as helpful as apathetic humans in a poorly designed system, which describes a significant fraction of service jobs.
Thanks to Leah Hanson for extensive comments on this, and to Josiah Irwin for a correction.